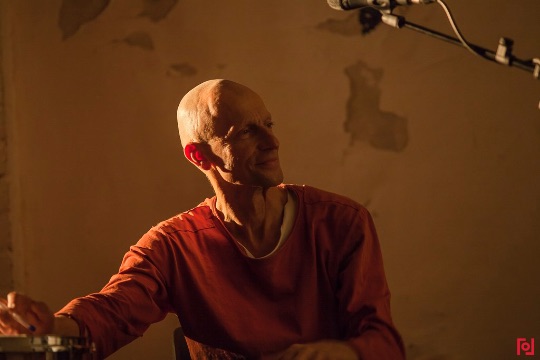 ANTON ADASINSKY
Director, actor, choreographer, musician, founder and head of the DEREVO theatre.

Anton Aleksandrovich Adasinsky was born on April 15, 1959 in the Krasnodarsky region of the USSR. His mother - Galina Antonovna Adasinskaya (1921-2009) - was the granddaughter of Mensheviks M. I. Broido and E. L. Broido. Second cousin - British rock critic and journalist Nick Cohn.

He trained at the Studio Theatre of V. Polunin, worked with Litsedei. From 1985 to 1988 performed in the band AVIA (vocals, pantomime, trumpet, guitar). Participated in shooting of Alexey Uchitel's documentary "Rock" (1987). In 1988 organized the theatre "Derevo" in Leningrad, which he leads to the present day. After several years of work in Leningrad-St. Petersburg, the DEREVO theatre was based in Prague, Florence, Amsterdam. Since 1997 DEREVO is based in Dresden, Germany, and has had a full-time rehearsal studio.

In 2001, Anton Adasinsky performed the role of Drosselmeyer in the ballet The Nutcracker at the Mariinsky Theatre (staged by Mikhail Shemyakin).

In the last few years he has renewed his performances with AVIA in the roles of soloist, leader of the physical band, trumpeter, bassist and guitarist.

Read more